B2B AND B2C PRODUCT MANAGEMENT: WHAT'S THE DIFFERENCE?
In their article "Product managers for the digital world," McKinsey&Company call digital product managers "the glue that binds the many functions that touch a product— engineering, design, customer success, sales, marketing, operations, finance, legal, and more. They not only own the decisions about what gets built but also influence every aspect of how it gets built and launched".
It's hard not to agree with this definition. Both B2B and B2C product managers are responsible for leading their products throughout their lifecycles. However, their daily responsibilities may differ due to the specifics of the business.
So let's start at the beginning and briefly define business-to-business and business-to-consumer digital product management.
WHAT IS B2B PRODUCT MANAGEMENT?
Generally speaking, a B2B product manager focuses on the clients and their needs. In B2B, companies have longer relationships with their clients. You give a client software ownership instead of keeping it to yourself. It's also worth noting that when you work with big B2B contracts, you can suddenly have 10k users come to your platform. That's why it's a bit different the way you measure and compare usage.
As a B2B product manager, you spend most of your time in customers' meetings/calls and working closely with the sales team.
WHAT IS B2C PRODUCT MANAGEMENT?
In B2C, product managers focus on the end-user without knowing their customers. Product managers can hold focus groups, conduct surveys, interviews, and user research to obtain any data about customers and their preferences. Still, they don't need to have ongoing relationships with the customers. Daily, B2C product managers work with digital product analytics, study user behavior patterns to see what works well and should be improved, and continuously seek new ways to optimize product UX.
B2B vs B2C PRODUCT MANAGEMENT
Despite the differences in project management, sales processes, and release cycles, both B2B and B2C have one thing in common: anticipate customer needs and solve them. Eventually, no matter what you think of a certain idea or feature, what your customers need matters. In both cases, customers want:
User-friendly and outstanding onboarding experience.
The mobile-first solution makes it easy to interact with the digital product on the go.
Personalized solutions. According to Accenture, "With so much digital "noise" out in the marketplace, companies must make the most of every opportunity they have to connect with customers. The priority? Solving for individual needs and preferences – with the customer experience right at the center".
Low level of effort no matter where they are in their buyer's journey.
Brands that deliver on their promise and values as most customers buy from companies they trust.
Support channels with multiple options including calling or chatting with customer support or reading FAQs.
Although there is plenty of overlap between B2B and B2C digital product management, they are two distinct entities with different processes and approaches. To help clear the confusion, let's look at the major differences between B2B and B2C product management: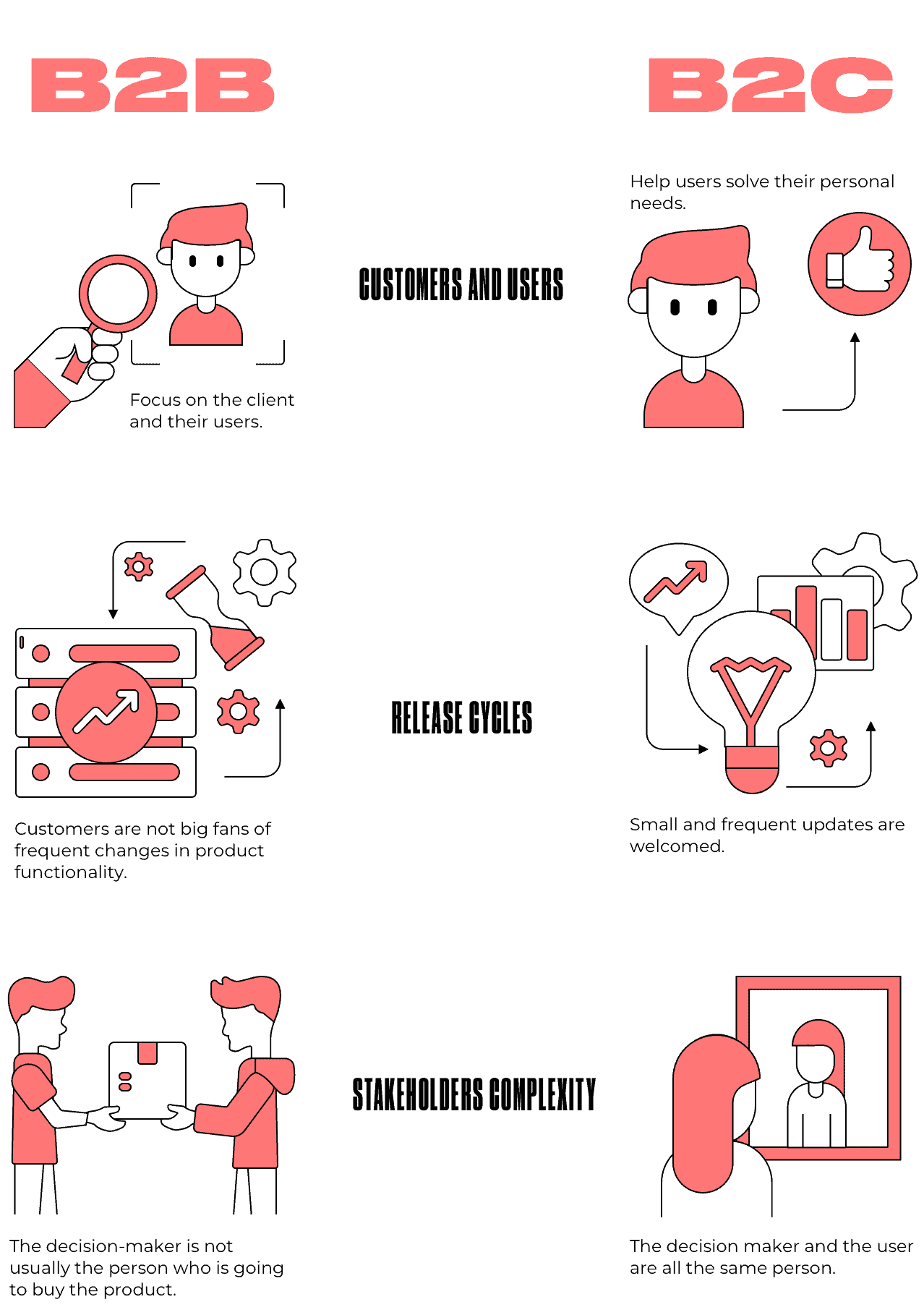 CUSTOMERS AND USERS
It's not the digital product manager's role that makes B2B and B2C different. It's more the nature of the customers. Let me briefly explain what I mean:
What is a B2C product? B2C products are consumer-facing and help users solve their personal needs. Social networking apps (Instagram, Clubhouse) or health and fitness apps (Strava, Headspace) are all B2C product examples. In B2C, your focus is more on the end-users as you build the product for one key persona – your user. It simplifies the task, but, unfortunately, not everything is as easy as it seems since some users can be hard to understand. With B2C products, managers can't reach every individual user and ask for their feedback. For this reason, the product scope usually originates from analyzing user behavior patterns, identifying gaps, creating vision through user research, and adapting to the changing needs of the users.
On the other hand, with B2B products, you focus on the client and their users. In other words, you build products for two personas: those who make purchase decisions (your customers) and the product users (your customer's employees). That's why balancing between the needs of the two personas in your product roadmap can be challenging.
What is a B2B product? B2B products are business-oriented and are intended to solve business problems. For example, CRM platforms (Salesforce, HubSpot) or cloud providers (Amazon Web Services or Microsoft Azure) are all B2B products examples. B2B is typically sales-driven. That's why digital product managers need to understand the sales process, client requirements, and how leads are generated. It will help them develop more effective solutions, convince the team and stakeholders to change focus (if there's a need for it), and adjust the digital product development process accordingly.
RELEASE CYCLES
Exciting and brand-new features are great unless it concerns your job and getting things done. This is what determines the speed and scope of making changes to your products. Let's consider the two categories separately:
RELEASES FOR B2B PRODUCTS
In B2B software, customers are not big fans of frequent changes in product functionality. The reason is that changes might cause some product malfunction. The introduction of new features may also require additional testing and staff training, which can take some time.
To mitigate any risks related to product performance, a digital product manager usually puts together all major releases. They try to make product updates optional or based on settings while avoiding changing the entire product experience at once.
RELEASES FOR B2C PRODUCTS
For B2C customers, things are the opposite: small and frequent updates are welcomed. Users are happy to try new functionality and engage with the product on new levels. But it's important to remember that when introducing new features, one should prevent any performance problems. If your product introduces some serious updates or UX changes, consider user onboarding or some hints so users can easily start enjoying the new features.
STAKEHOLDERS' COMPLEXITY
In B2B, the person who decides to buy is not usually the person who will use the product. In B2B, you have many ideas coming from stakeholders on how to improve the product. B2B product managers have to consider different stakeholders, prioritize the product scope, and keep stakeholders informed of progress. That said, when you release something new, it's the product manager's job to communicate with all stakeholders and ensure that the product addresses the needs of each one.
On the contrary, for most B2C products, the decision-maker and the user are all the same person.
DELIVERING VALUE TO CUSTOMERS
B2C product managers are focused on building products that appeal to users emotionally. Research conducted by Bain & Company "The B2C Elements of Value" shows what consumers value most by highlighting four categories of elements such as functional, emotional, life-changing, and social impact. At the bottom of the pyramid, users need to meet their functional needs and become more personal at higher levels.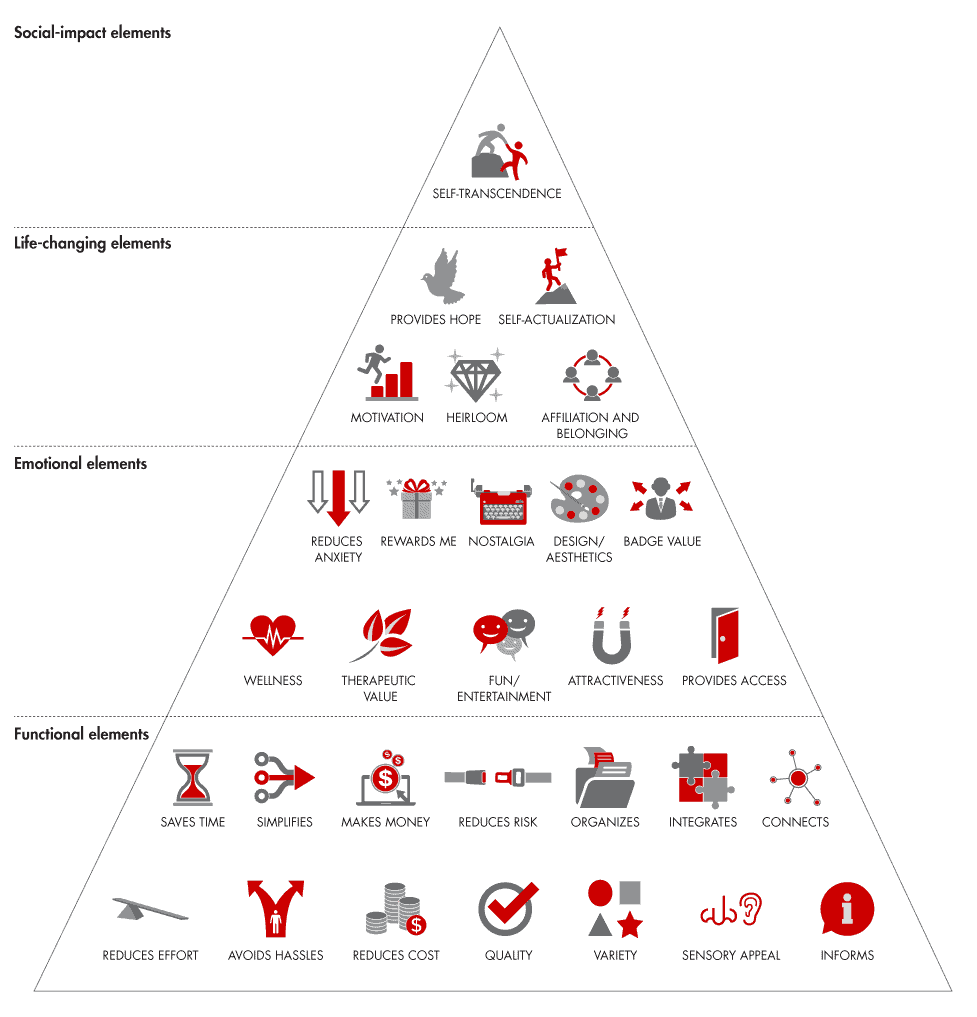 In B2B product management, your main focus should be on improving workflow efficiency. Building new features, adding new functionality is more important for enterprise clients than worrying if the product has an appealing interface.
The same study as with B2C customers was conducted with B2B. It turned out that the bottom of the pyramid shows the most objective values such as price, regulations, scalability, quality, etc. On the top of the pyramid, the elements become more subjective and personal, like design and aesthetics, perks, vision, marketability, and so on.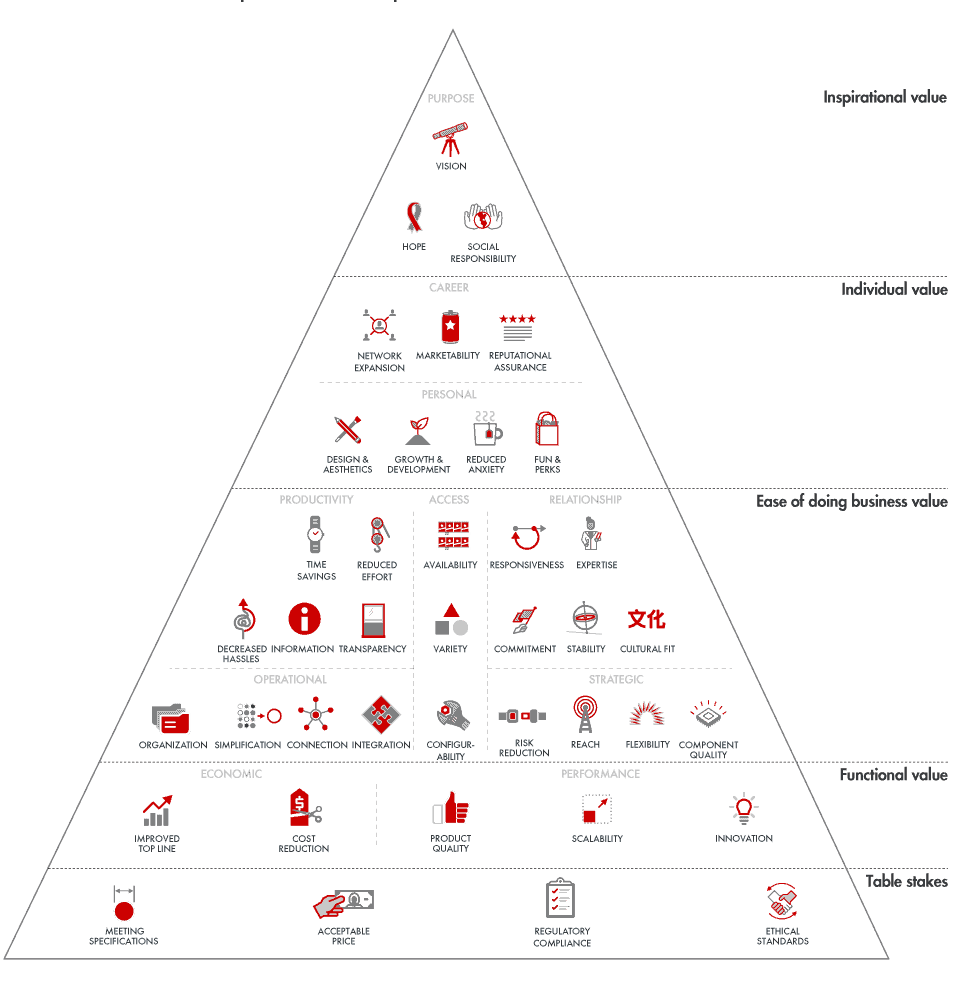 WHAT B2B & B2C DIGITAL PRODUCT MANAGERS HAVE IN COMMON?
UX DESIGN
Gone are the days when UX was a nice-to-have for most SaaS products. Nowadays, a compelling UX is a new black and oftentimes a key competitive advantage of the digital product. And this applies equally to both B2C and B2B companies.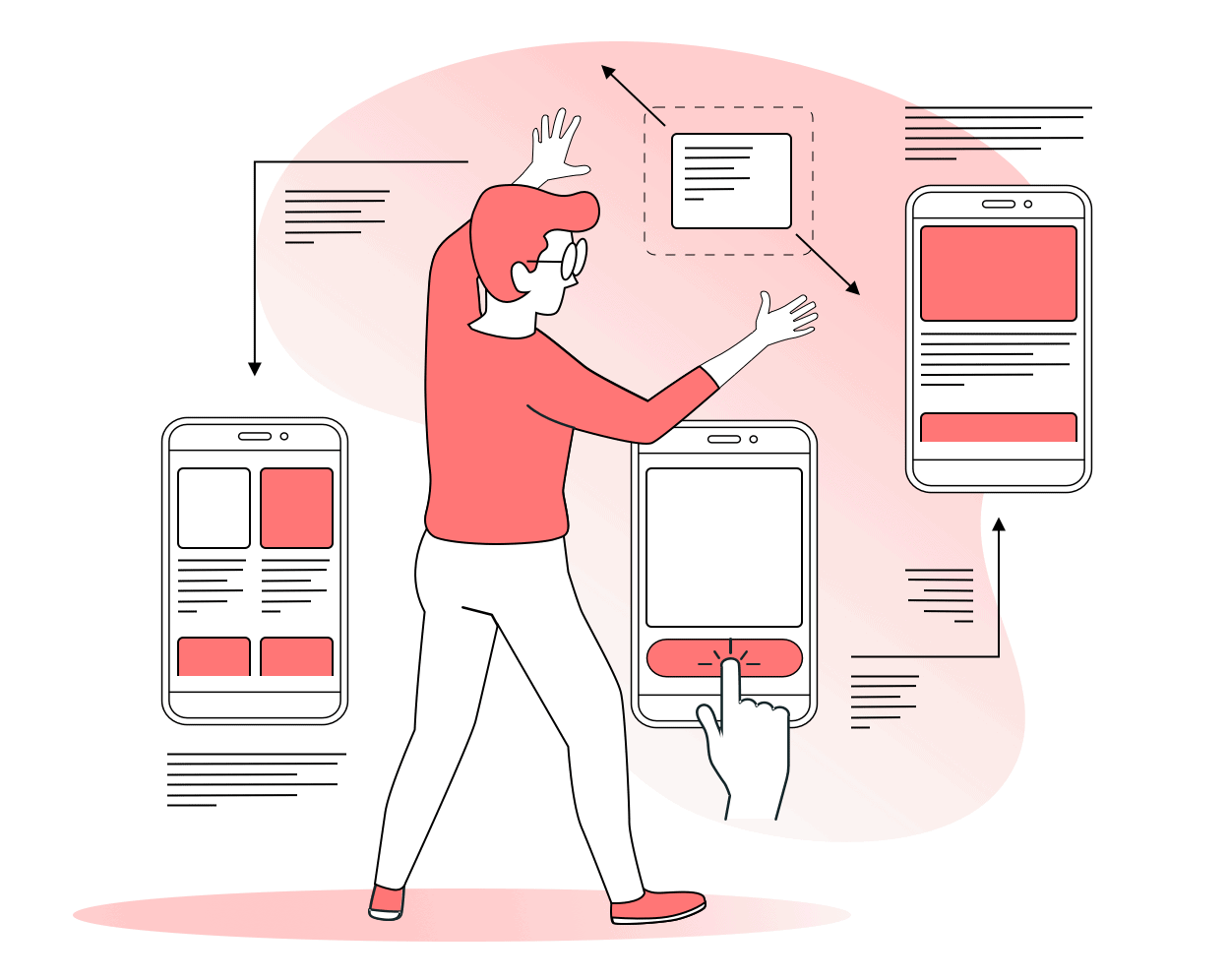 B2B products have much in common with B2C products: they need to create a clear information architecture, add engaging and informational content, provide details about products, and have a simple, clean, and friendly interaction design.
HOW TO TRANSITION FROM B2C TO B2B Product Management AND VICE VERSA
The best way to learn about career prospects and the specifics of switching from one business model to another is firsthand. Learn about Katarina's experience of working with both B2C and B2B product businesses. In this podcast, she shares some of the realities and myths of being both product owners.
CONCLUSION
B2B and B2C products are different in releasing cycles and roadmaps, customer acquisition, and stakeholders' involvement. But despite all these differences, one thing remains common, and it is the most important one in the entire digital product management process – you create and build for humans. What matters most is that your product has to be usable. Therefore, always strive for a better, intuitive, clear, and smooth user experience that will remove all customers' frustrations, add value, and make them enjoy your product.
If you need to figure out how to improve your digital product development process, conduct user interviews, make prototypes, verify your ideas, and prioritize features, our digital strategy consultants will provide you with all the necessary resources and support.
If you're looking for a reliable team to build your product, we're here to help. Share details of your project, and we'll contact you asap.