DIGITAL PRODUCT STRATEGY: FROM IDEA TO EXECUTION
"Strategy" has become a buzzword nowadays. Everyone in the companies talks about it, and everyone knows that they need it (well, almost everyone). In fact, the digital product strategy is one of the most important things you need to care about during the entire product lifecycle.
If we look at some great products, it might seem that their success lies in a good idea, a creative approach, and millions of investments. However, behind every product, there're ups and downs, risks, and hard times. Moreover, many potentially successful ideas have never been realized. One of the reasons that so many companies fail at delivering products is the lack of a clear digital product strategy.
The product strategy helps to understand and structure the following:
Who your customers are and what motivates them to use your product?
How the product will fit the current market and what sets it apart from competitors?
How to maintain the product growth and achieve business goals?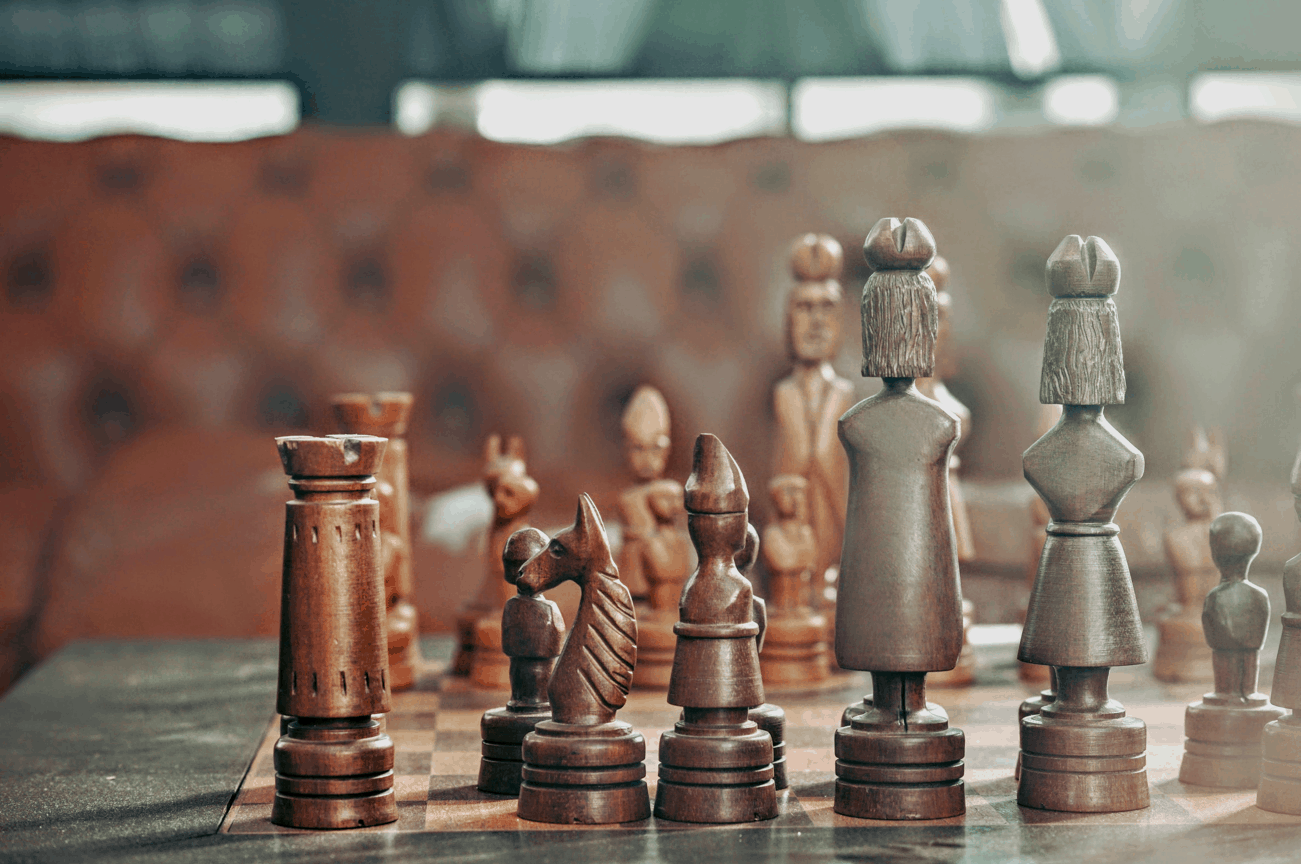 A product strategy is the vision of the product and its further development. Whether you build a product from scratch or enhance the existing one, a well-prepared strategy will help create value for your customers and business, get your team on the same page, and make decisions while taking all risks and opportunities into account.
To help you and your digital products be as successful as possible, we'd like to describe why every project should begin with a clearly defined product strategy. Let's dig a little deeper into what a strategy is and what it needs to include.
WHAT IS A PRODUCT STRATEGY?
A product strategy defines the strategic vision of the product. It's a system of achievable objectives where every team member works towards desirable outcomes for business and customers. Think about it as a map, where you first need to set the destination and then plan the route. The product strategy helps companies develop a high-level vision, define the product's goals instead of trying to be everything to everyone.
The strategic foundation of digital product strategy consists of the following elements:
the purpose of creating the product;
the challenges that the product can solve;
the product's competitive advantage;
understanding the needs and wants of the target audience;
the desired outcomes and benefits for the business.
Basically, your strategy outlines your vision, goals, and efforts that need to be implemented to achieve these goals. Surprisingly, many company founders think they need a product strategy only after developing the product. In reality, the best time to start working on the digital product strategy is before the development process.
THE PRODUCT STRATEGY CANVAS
The product strategy canvas is a helpful and practical tool. By filling in the sections and answering the key questions, you outline things that matter the most for the product's future success.
Let's consider two examples of product strategy canvas. The first one is a product strategy canvas by Roman Pichler. It's a tool that helps organize information about the product with actionable tasks for the team to work on.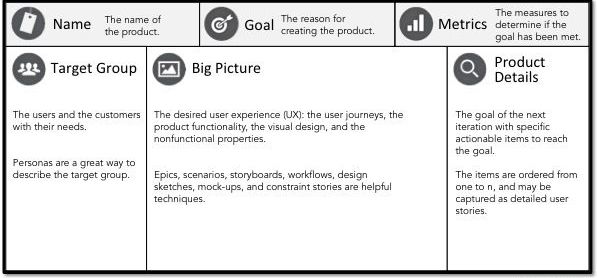 On the other hand, there's a more informal version of the product canvas developed by Melissa Perri. It's also a great exercise that helps product team members and stakeholders set a strategic vision for the product.
Here's an example of a completed product canvas for Uber.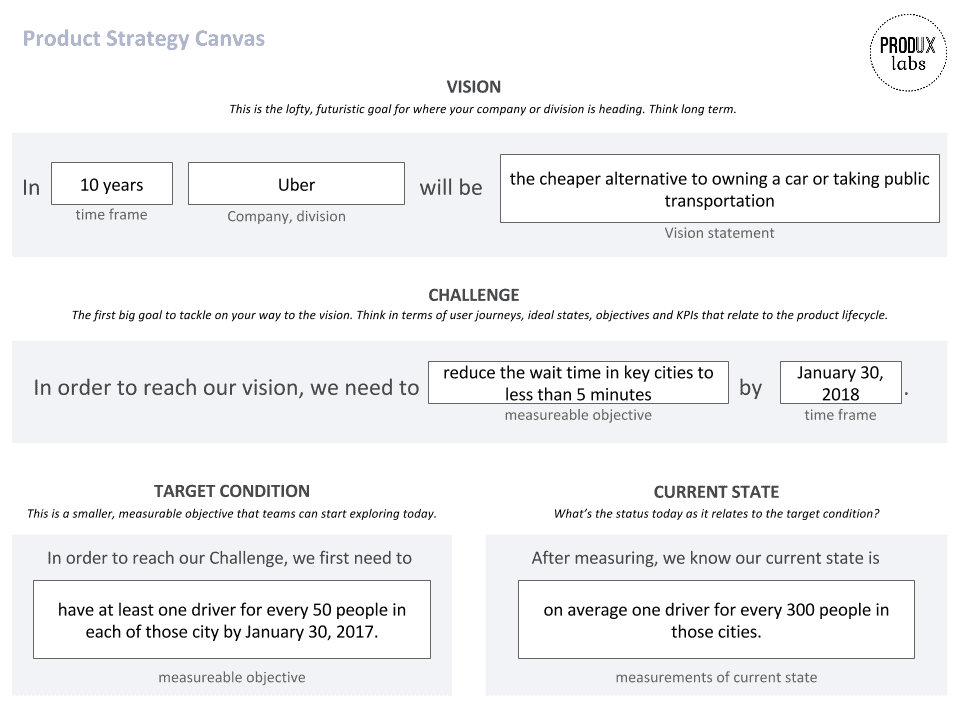 You're free to decide what canvas suits you best.
MAIN COMPONENTS OF PRODUCT STRATEGY
Product strategy is an intersection of market needs, the product's key features, and business goals.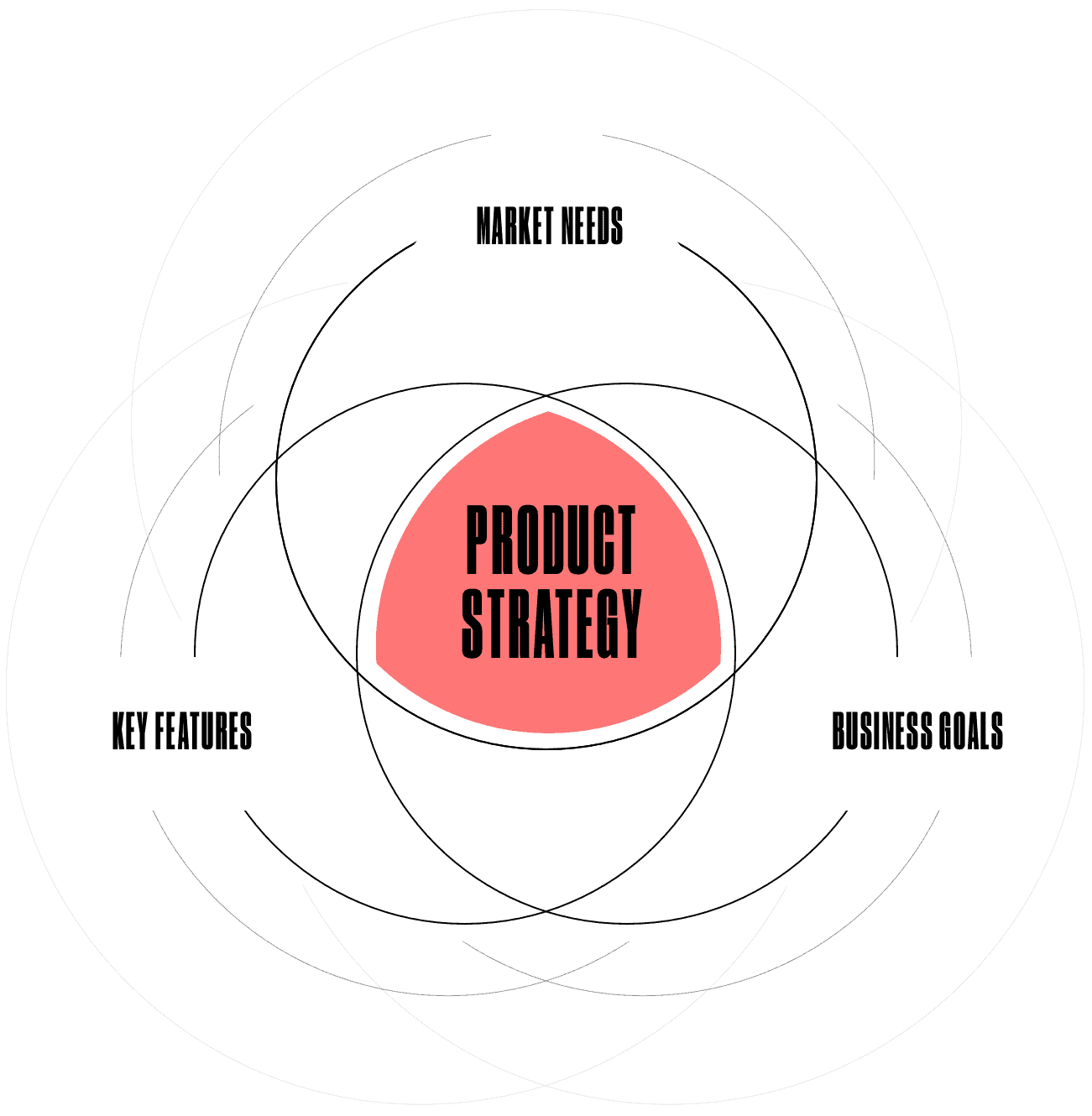 MARKET NEEDS
By market, we mean the target audience that's going to use your product. The market needs are about the challenges and problems that users encounter and how the product will help solve them. A great example is LinkedIn. It works both for job seekers and companies searching for talents—a simple and convenient platform for finding jobs and talents around the world.
KEY FEATURES
Back to October 6, 2010, Instagram launched a location-sharing application where users could take photos from the app, edit them, and geotag locations. Those aspects of the product were key to create the primary benefit and make people start using it. Don't try to create a backlog of all desired features. Instead, focus on up to five key aspects that will make people want to use your product.
BUSINESS GOALS
The business goals define how the product is going to benefit the company. Each product has its own goals: increase revenue, help sell another product, reduce costs, increase the number of users, etc. Let's take the iPhone. iPhone is one of Apple's many products. But it generates the company's largest portion of revenue to date.
RECAP
In a nutshell, your strategy is the foundation for a product roadmap, key features definition, and task prioritization. It helps to structure all project information in one place. It also allows us to see any gaps or risks and adjust plans accordingly. Think about the product strategy as a north star that tells you where your product is headed.
Need help with setting up a strategic direction for your product? Feel free to contact us.