HOW TO LAUNCH A STARTUP WHEN YOUR BUDGET IS TIGHT?
Before we go over the tips on how to launch a startup on a tight budget, we want you to keep in mind a few things:
You don't need to include every feature.
A software product is never really "finished."
Understanding this is important to your product's success. Your idea doesn't have to be perfect from the start. It would be best if you were open to doing a certain piece of work that will help you reduce costly rework, prevent low-quality results, and go over budget. It's also important to shed light on the understanding of what is the outcome your business seeks?
In this blog post, we're going to provide some hints on how to effectively launch your startup if you have a tight budget and limited resources.
1. OBTAIN EARLY FEEDBACK
Getting feedback in the early stages is extremely important for your business in the long run. When your team is small and operating your startup on a tight budget, you don't have much room to fail. At this point, wouldn't you rather find out what people think to see where your time and resources would be best spent?
You don't have to wait until your product is perfect for release. You don't even have to create a product backlog. At this stage, it's enough to have a bare-bones concept to get feedback from a number of people who can potentially become your users.
Feedback collection is a fast and cheap method that constantly feeds you the answers you need. But keep in mind that it is better to avoid receiving feedback only from friends and relatives as it can lead to false-positive responses. Keep talking to a variety of people who can critically evaluate your idea. You can get this feedback by interacting with users one on one in a freeform discussion. You can also organize a web meeting with them and watch their reactions by talking about what value you want to deliver with the help of your product.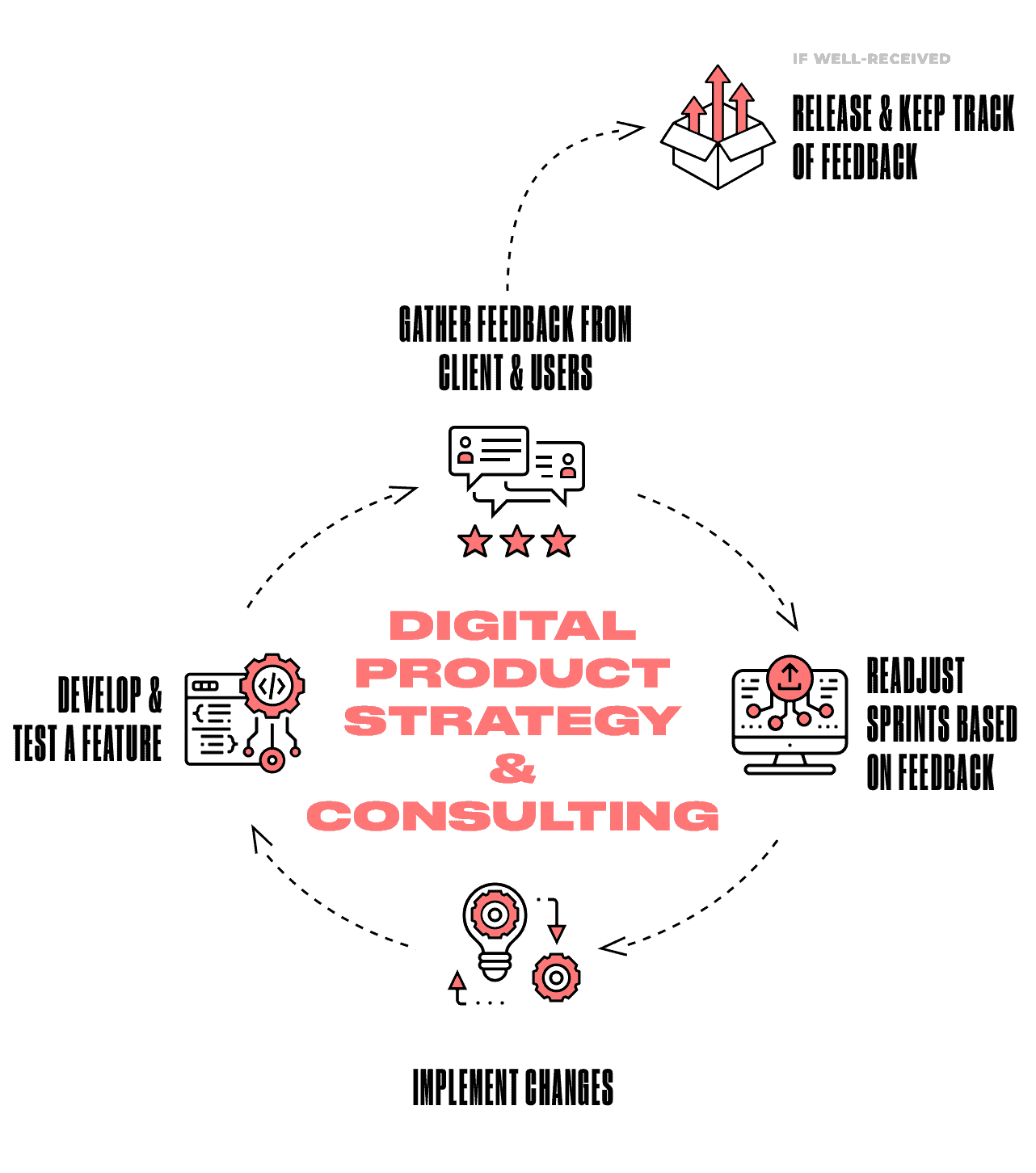 HOW TO COLLECT USER FEEDBACK?
In addition to talking with potential users of your product in real-time, you can also choose any method to organize your feedback collection process:
If you're looking for structured feedback, consider online surveys. There are many online survey creators out there to help you craft the one you need. For example, Survey Monkey, Typeform, Google Forms, Zoho Survey, etc. You can also create a custom survey app, but it will take longer. Take a look at one of our case studies: we created a 

custom survey app

 to ensure effective data collection and analysis.
In case your product is aimed at a very specific niche, you are free to run a focus group. They usually provide immediate ideas for the improvement of particular products or concepts.
Also, keep in mind discussion feedback, which is collecting responses on forums like Quora or Reddit.
Apart from interacting with users, it's also important to get technical expertise and understand how your product will be developed in the future. Therefore, find technical consultants who are capable of building good software and do it cost-effectively by understanding your product value and business needs. Avoid scenarios where the product development approach is similar to "making stuff for being done."
2. CREATE A PROTOTYPE ON HOW EVERYTHING SHOULD WORK
When you want to validate your product concept to get more feedback, you need something to show to people. That's what prototypes are for. A good prototype feels like a real product, except you don't have to dive into the production process and make substantial investments. Prototypes are usually relatively cheap and quick to produce. In addition, they help you engage with users early to test the basic product concept. Involving UX designers at an early stage of your product can help you create a prototype based on design best practices.
The reason why you create a product prototype is to understand the problem you wish to solve and:
Receive more comprehensive feedback and valuable insights on usability and features (risk-free and on a budget!);
Create a list of criticism, improvements, and ideas based on the received feedback;
Choose a group of people who were most interested in the product during the first step;
Adapt the prototype accordingly.
You can also think of a prototype as a process of turning a rough idea into working specifications and requirements.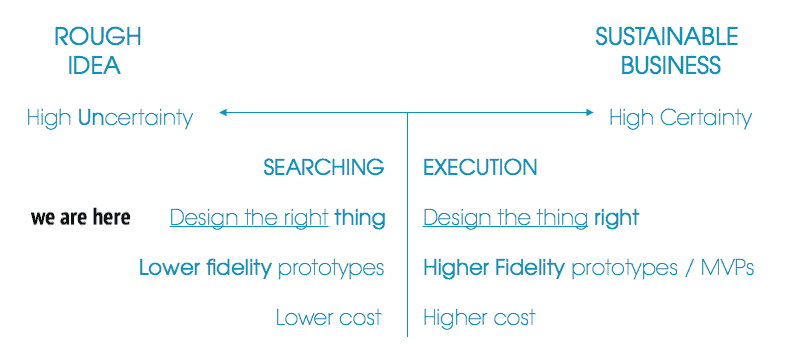 3. CHOOSE THE MOST OPTIMAL PLATFORM
The next step is to choose the technology approach for your project. The first question to ask yourself when picking technology is: what do I want to achieve? When you know the purpose of your product, you can narrow down the options. Different companies have different needs when it comes to this. Consider your position and your needs. These will help inform your platform choice.
Let's imagine that you want to develop a mobile app, so you have to decide whether to go with iOS or Android? Or maybe you should choose a responsive web app or a cross-platform technology? Sure, you don't want to limit yourself and lose half of the potential audience by building only one platform.
But it takes a lot of resources and costs to cover all platforms and build a quality product. It would be best to find a balance between spent resources and platforms involved without investing in a technology that could limit what your app can do.
The obvious question is, why not develop for multiple platforms, thus reaching more audiences and receiving more feedback? This will be the easiest. But limited budget and time frame are a constraint. It's simple math: the more platforms involved, the more expenses, including maintenance, enhancement, and testing.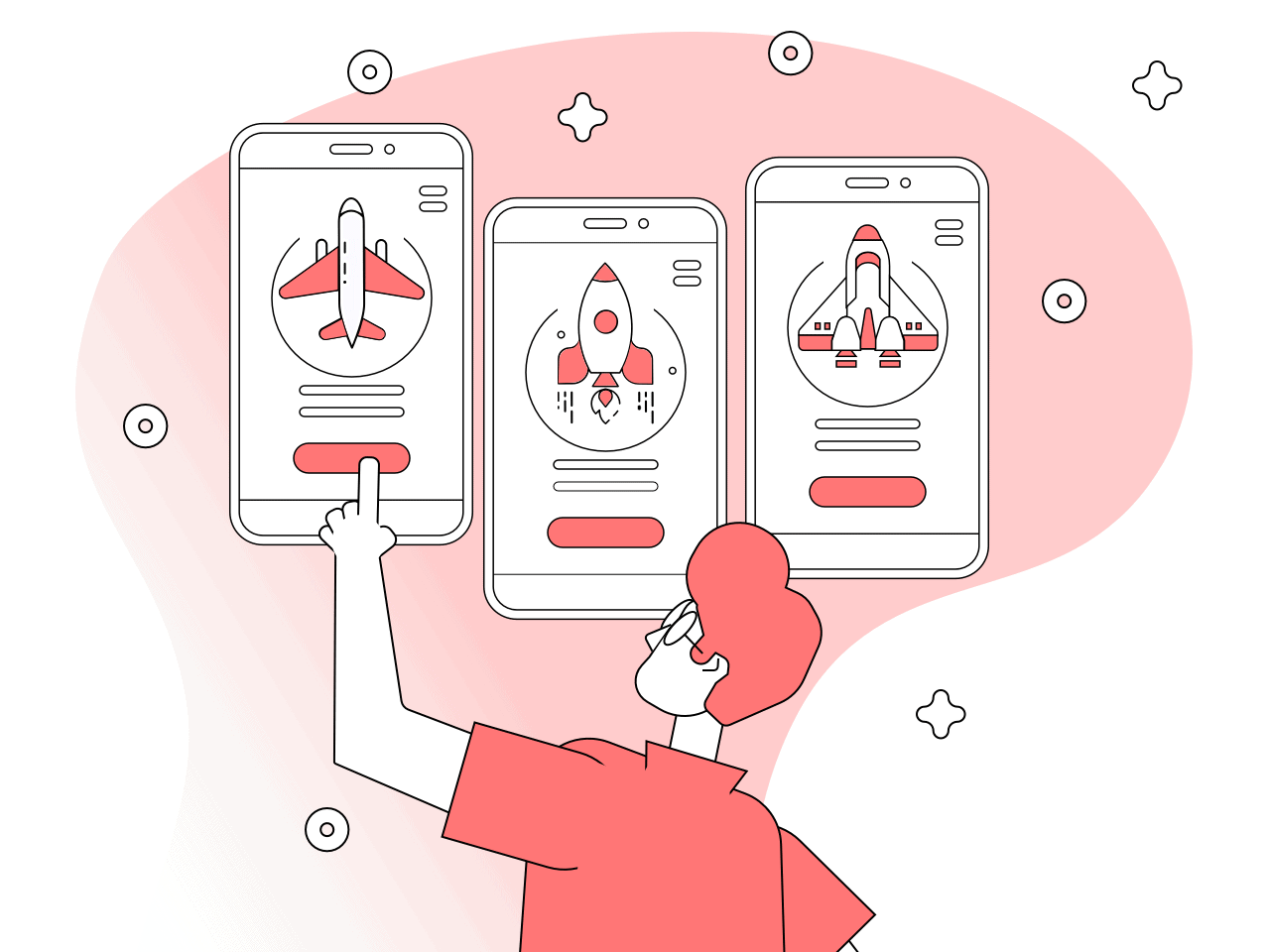 WHAT PLATFORM TO CHOOSE?
Our recommendation is to choose the platform to reach most of your target audience and develop the minimum functionality for this platform. At this point, our main task is to show the core value of the product. Without overloading it with all possible features, our goal is to remain cost-effective, continue receiving feedback, and still achieve the outcome we seek.
For example, in this situation, we choose Flutter as one of the cross-platform development toolkits. It allows us to have a single codebase for all chosen operating systems. In this way, if we develop an app for iOS, we don't waste time testing for Android, and, accordingly, it allows us to launch our app faster. Then we can start working on the Android version of our app, taking into account the feedback received from users of the iOS application. This step will be faster to implement as we already have production-ready code.
When we work with our clients, our task is to convince them to develop fewer features, especially during the early stages of the digital product development process. This is justified for bringing the product to market. It's important not to develop more features but cost-effectively create positive results.
4. CHIP AWAY EVERYTHING THAT DOESN'T LOOK LIKE DAVID
When they asked Michelangelo how he made his statue of David he is reported to have said, "It is easy. You just chip away everything that doesn't look like David."

Beware of overloading your product with too many features (especially when the first version).  Sure, it's tempting to add a whole bunch of features and create a visually aesthetic UI. But remember that every new nice-to-have feature will add up to the cost and time of development. The budget for developing a product with multiple functions will cost more than that of a simple one.
That's why you should first start with a product that serves the primary goal of your business. You can then gradually add new functionality and optimize the product based on users' feedback.
For example, there's no need to develop both dark and light modes in the first version of your product. At an early stage of startup development, you have to narrow down the feature set and concentrate the limited resources and tight budget on what should make your product valuable.
5. TAKE SOME TIME TO PLAN THE MARKETING STRATEGY
Before investing your money and efforts in product development, take some time to plan the marketing strategy. In fact, skipping the pre-launch marketing campaign can lead to little attention from users and slow discovery. Without a robust marketing campaign, your product may not get the right start.
First of all, you have to make your product vision statement, which will include the following:
Who are your users?
What problem is our product solving?
How are you going to measure the success of your product?
Let's imagine that your product is a language learning app. The goal of this app is to facilitate speaking practice and eliminate the potential stress of real-time conversation. This app allows learners to quickly find native speakers and converse with them using voice and text messages. So the vision of the app will be "to become the best app for those who want to learn to speak a foreign language fluently and overcome the language barrier." With this vision, you can create a SWOT analysis and better understand your app's potential on the market.
THINGS EVERY MARKETING PLAN SHOULD INCLUDE
The next steps in your product marketing strategy include:
Identifying your key competitors, conducting target audience research, and creating a SWOT analysis. This information will help you compare your product to what already exists on the market and analyze the strengths, weaknesses, opportunities, and threats for your product positioning.
Based on the previous research, you can start creating your buyer personas, a portrait of an average customer who will buy your product. This portrait includes the following characteristics: age, gender, location, job title, income level, goals, challenges, frustrations, motivations, etc.
The next step will be defining your product's key features and, based on it, create a product message that describes its value to a target audience. In the case of the language learning app, your message will be: "An app that helps to learn to speak a foreign language fluently and overcome the language barrier."
Finally, to enter the market and reach your audience, you need a launch plan and promotion strategy. The goal of a launch plan is to communicate a timeline for release to a sales team. Remember that every aspect of your promotion strategy is centered on your product messaging.
The complexity of your promotion plan will depend on the marketing budget you've identified, but you should also consider including tactical plans related to:
SEO and paid advertising
Social media
Content offers, blogging, and email marketing
Lead conversion and nurturing
Traditional advertising
Getting your product built is one, but reaching the right audience is a whole different game. We recommend getting marketers involved right at the conceptualization stage so that more people can learn about your product.
SUMMING UP
Product development can cause you a fortune. But if approached rationally, without unnecessary hectic and eliminating thoughtless steps, you have all chances of releasing a valuable product and successfully launching a startup while sticking to your budget. In addition, we recommend:
Eliminate the guesswork in product development by regularly gathering feedback from users. Given how time-consuming and expensive developing a product or feature can be, collecting real user feedback is what will save you time and money.
Avoid getting your product bloated up with features. Even if you think of adding shiny, new things to your product, you are not your user. Create something actually valuable for your audience.
If it's possible, use ready-made solutions. For example, we already have authentication modules, which allows our team to save time and costs during a software development life cycle.
Got a project idea in mind and want to learn how to prepare your product launch, drop us a line effectively!