THE TRADITIONAL APPROACH TO OUTSOURCING PRODUCT DEVELOPMENT IS DEAD
Taking into account that the value of the global IT outsourcing market hit over $300 billion in 2020, one would doubt the accuracy of the statement reflected in the title. Fair enough. Businesses turn to outsourced product development for many good reasons — cost reduction, expert assistance, operational excellence, etc. A quick Google search will introduce you to a never-ending list of other benefits and reasons speaking in favor of outsourcing. But few headlines will look at it from a different angle.
35% of clients feel either negative or neutral about their cooperation with the external team and would unlikely recommend their outsourcing partner to fellow entrepreneurs. Clients name poor cross-team communication and mismatch of goals among the primary reasons for that. What does it convey to us?
Traditional outsourcing no longer works. We should reconsider how to outsource software development.
WHAT IS OUTSOURCED PRODUCT DEVELOPMENT? TRADITIONAL WAY
Software outsourcing takes place when a company (client) delegates digital product development to a third party (vendor). As a rule, the external team is in charge of the entire process — from requirements specification to the delivery of a ready-made solution.
In a traditional outsourcing model, the vendor works independently, as a stand-alone team. The team consists of players in all key areas: market research, UI/UX design, engineering, and testing. The vendor has full control over the development cycle and moves between stages at their own pace.
To stay on the same page, the client and the vendor agree on the project's milestones and validate them once achieved.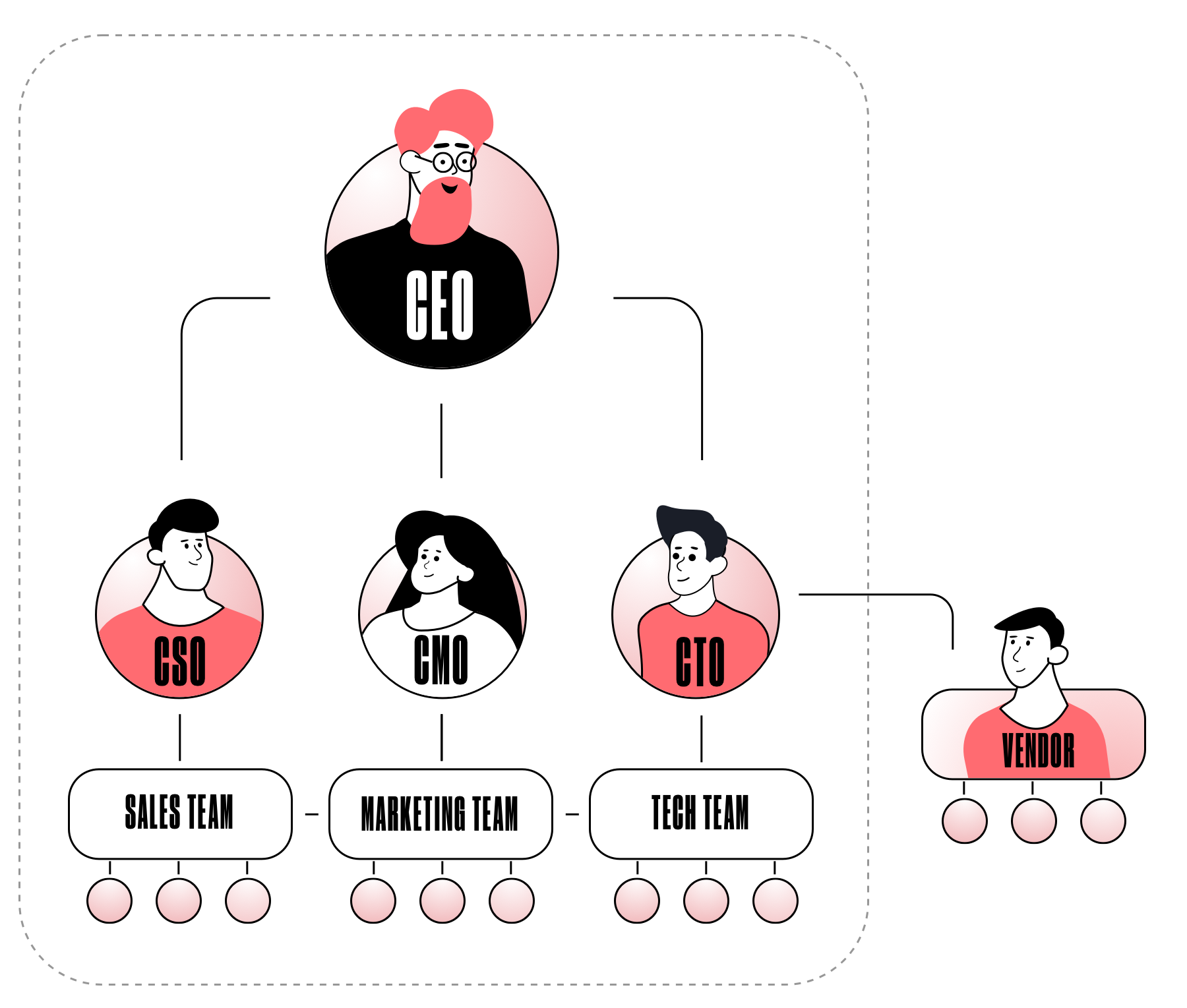 APPROACHES TO SOFTWARE DEVELOPMENT OUTSOURCING
The type of outsourcing approach heavily relies on the client's business needs, core competencies, and structure.
Let's consider two examples.
CASE 1
There's a digital product company that strives to prosper in a competitive software market. To keep with rivals the company has to roll out new solutions and add extra features to the existing products.
Market researchers have spotted an opportunity for business growth and insist on developing a brand-new product to meet the emerging demand. In order to quickly validate the hypothesis, the company has to create an MVP and introduce it to the target audience for feedback collection.
The in-house development team is busy releasing the updated version of the core product and can't switch to the new task. Besides, the company is constrained by a limited number of resources. The only way to cover all bases is to opt for outsourcing new product development.
CASE 2
A recruitment agency has seen a significant inflow of job seekers over the last few months. It is getting tough to manage and streamline the process of sourcing candidates in a traditional manual way. There's a need for an applicant tracking system that would automate the process and speed up the entire recruitment workflow.
Obviously, the recruitment agency's core competencies do not include software development. There's no technical labor on the in-house team that may fill the skill gap. The agency turns to outsourced product development services.
Although outsourcing takes place in both cases, the approach to cooperation will be slightly different.
The digital product company requires team extension. In this case, the outsourcing partner will perform only a certain set of job functions. On the other hand, the recruitment agency will outsource the entire domain as it lacks relevant expertise.
WHY DO COMPANIES OUTSOURCE PRODUCT DEVELOPMENT?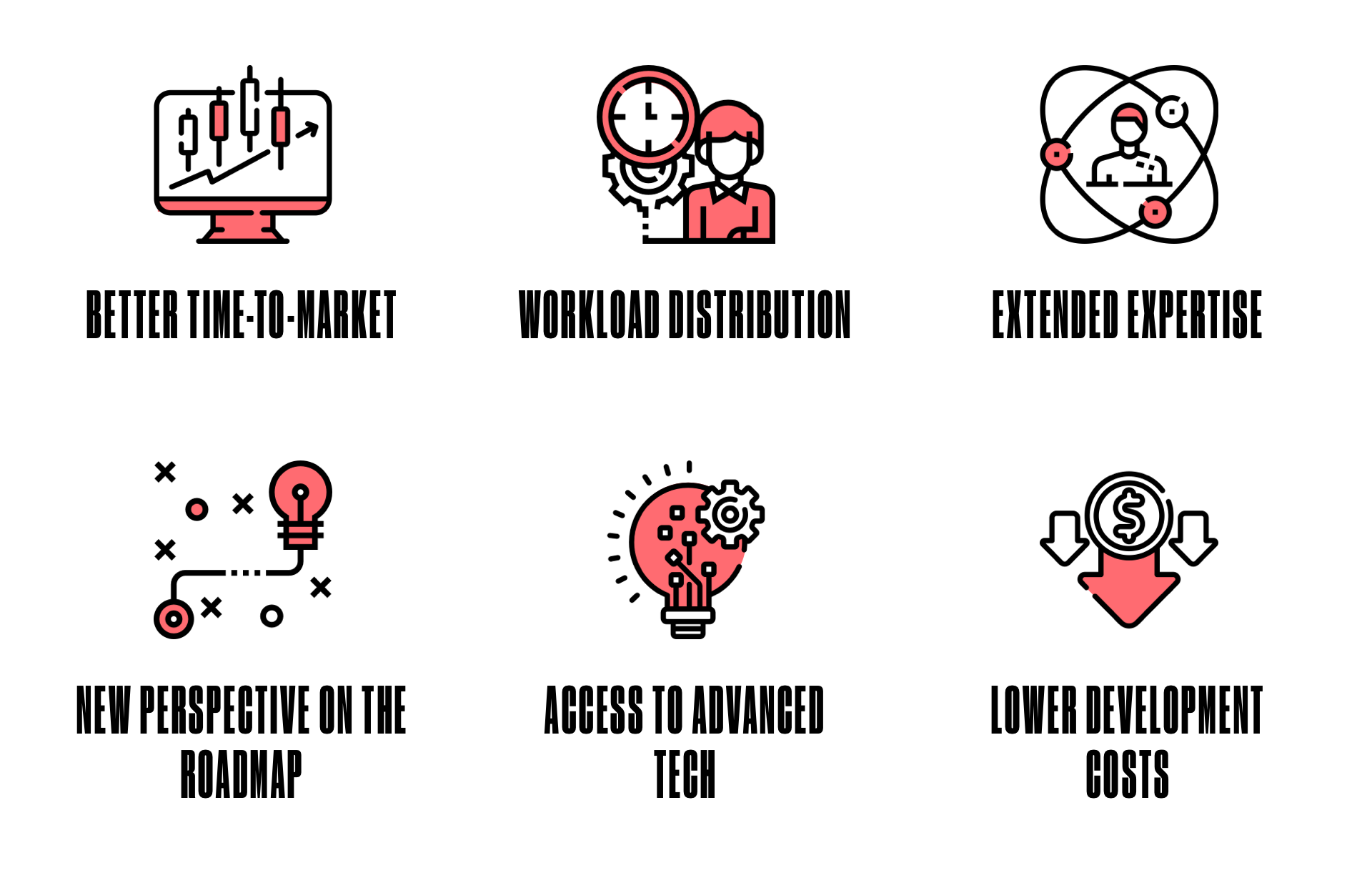 ISSUES WITH TRADITIONAL OUTSOURCING
So far, traditional outsourcing looks like the ultimate solution, but it has flaws. Although these flaws are inconsiderable in number, they do have a considerable impact on the outcome.
Most companies use the wait-and-see approach to outsourcing product development. They come up with a pure idea of a new product, hand it over to the external team for development, and sit back waiting for the working solution. And that's a critical mistake. The product is the client's brainchild — it should comply with the business vision and serve the originally intended purpose. If the client is delinked from the outsourced product development process, there's a possibility that they won't get what was envisioned.
Since the external team members are somewhat isolated, they do not see the bigger picture of the client's company processes. Remote experts may prove less effective in achieving company-wide goals because they are simply unaware of them. This would not have happened provided the client had direct managerial control over the outside team. Making a software outsourcing partner more involved in organizational processes means offering the required onboarding, strategy assistance, and cultivating the expertise they possess. That way, the outside team can suggest a more optimal solution and therefore, make a more valuable contribution to the company's overall growth.
Learn more here ⇩
AN EFFECTIVE WAY TO OUTSOURCE PRODUCT DEVELOPMENT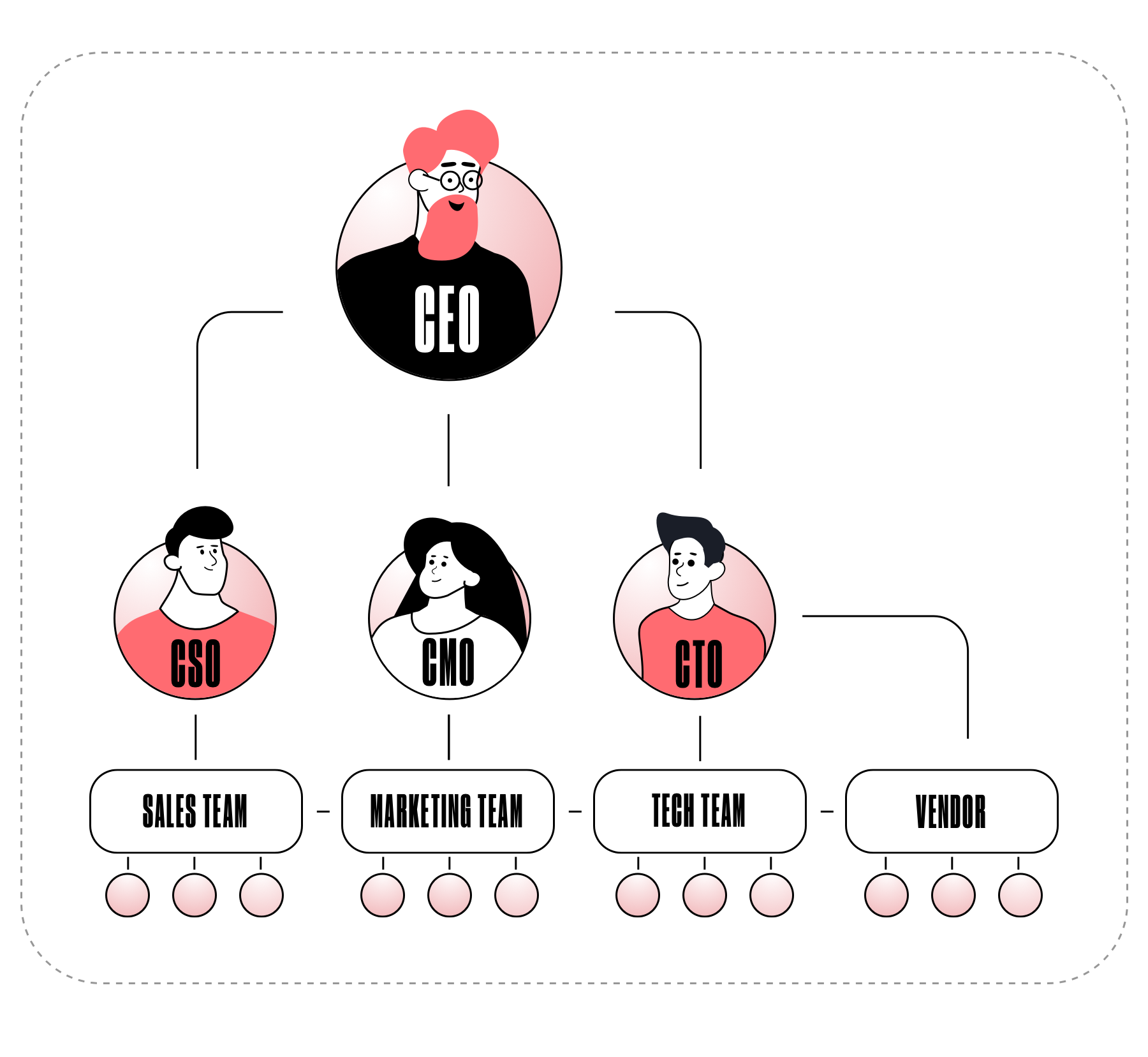 Everyone involved in creating a product is a 'maker'. Therefore, the walls between sales, marketing, and development teams — both in-house and remote — should dissolve. Instead of focusing on individual contributions, every team member should be committed to creating a product that is valuable in the eyes of a customer.
Becoming product-led requires a mindset shift at individual and company levels. And two important keys to this formula are 1) collaboration, and 2) initiative.
Successful collaboration starts with common data, common language, and common goals. This is the essence of the product-led approach. Instead of keeping different departments separate, it encourages collaboration between teams by placing the product at the center of the business.
Encouraging participants to show initiative requires a more transformational approach as it calls for introducing some changes to the work culture. It's important for a remote team to understand why they do what they do. They should know the end goals, core business values, and risks. Keeping the bigger picture in mind, the external team may suggest fresh solutions to product development based on their previous experience and expertise. This may turn out to be a breakthrough initiative for the company and its overall growth.
Both the vendor and the client should act as one team while deferring to the experience and knowledge of every member. This is because they are all guided by the same goal.
AGILE & RESILIENT PRODUCT DEVELOPMENT TEAM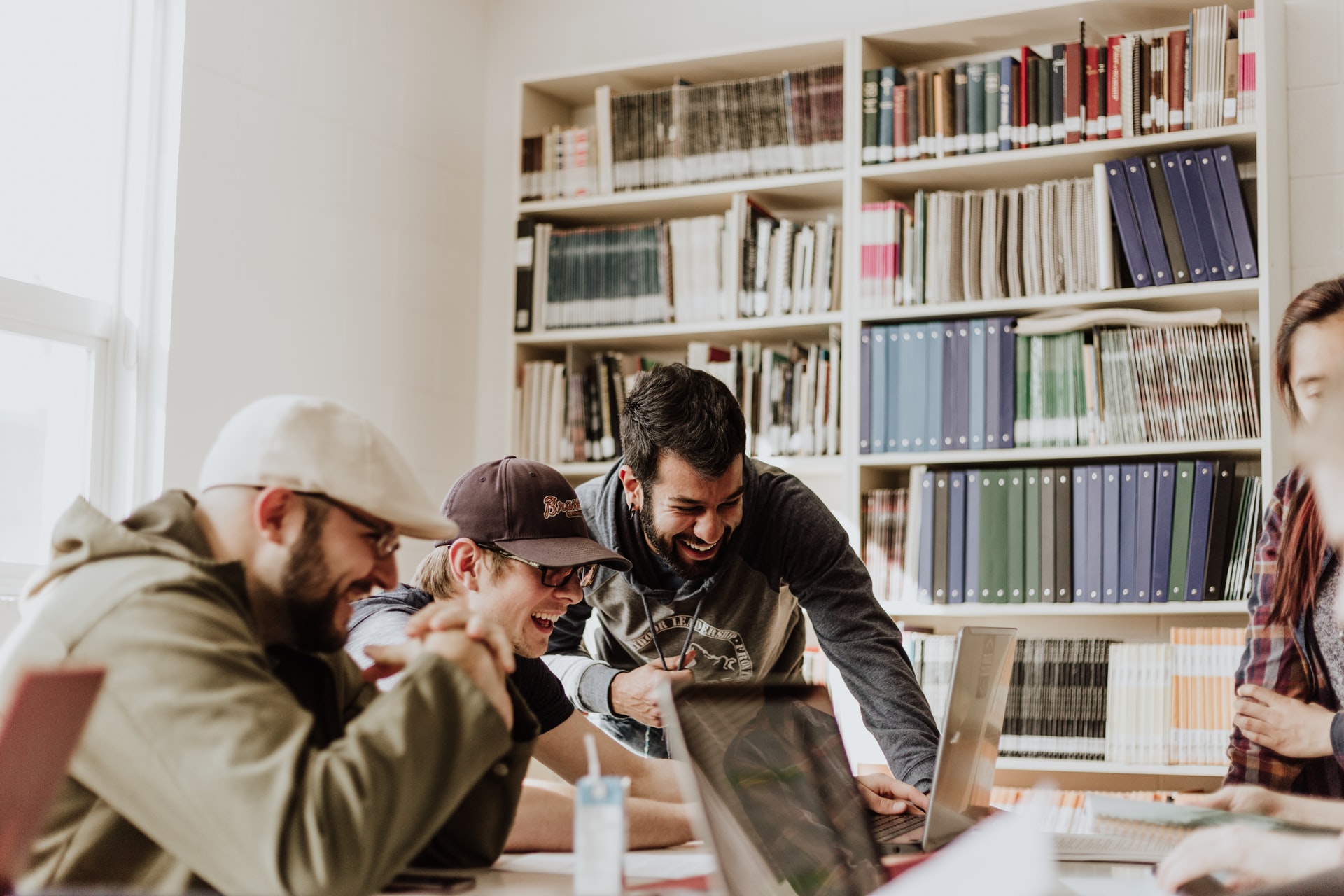 If you want to create a great product, put a great team behind it. These people have end-to-end responsibility for what they build, design, and deploy. Also, they should quickly iterate to prove what is working and what is not.
No matter the product team structure — be it Spotify-inspired squads or Amazon's two-pizza teams — there are certain qualities that an agile product team shares:
✔ Common vision of the goals and mission
✔ Customer-centric approach to development
✔ A pool of diverse expertise
✔ Accountability and transparency
✔ Ability to take initiative
✔ Openness to new ideas and experiments
✔ Responsibility for delivering a valuable product
A product team is expected to be cross-functional and contain developers, designers, marketers, and product owners. Delivering a winning solution means taking into account different perspectives. That's why no product-related decision should be made without negotiating it with all team members.
CASE 3
Suppose you are building a ratings & review platform. Marketers have performed in-depth research and found out that users would appreciate a review moderation tool, which was not included in the list of core features. Before adding it to the list, the team holds negotiation on the feasibility of this feature looking at how complex and costly it is for development. Ultimately, the team understands that this addition will stretch the budget significantly and decides on implementing its simplified version — user moderation. Users will be able to vote for the trustworthiness of any review and thus, contribute to the transparency of the platform. As a result, both the company and its customers get a win-win solution.
This would not be possible if it weren't for a collaborative product-led approach.
ON A FINAL NOTE
Switching to a product-led development process is by no means an easy task. It often requires a detailed analysis and then, restructuring of the workflows, interactions between teams, and distribution of roles. However, if you are dissatisfied with the result of cooperation between in-house and external teammates, there's certainly a need for change.
We, at CXDojo, make sure that our product development team is collaborative, cross-functional, and keen on creating exactly the product that customers need. We work together with the client's team towards a common ambitious goal — creating a product that is feasible, usable, and aligned with the original vision.
Let's join forces and make amazing things happen!