There is a myriad of well-engineered products in the world that failed to disrupt markets because they missed out on putting forward customer and user experience. In the age of user and customer experience companies need to focus on users' problems rather than on technology only. But the fact is that many companies still invest time and money on choosing cutting-edge technology to impress their customers. As it turned out, the total focus on technology stack in the product development process is not as essential to the positive digital experience as many companies believe. Competition is fierce and only those who can provide a stunning end-to-end experience will survive. To improve the software development process and make the delivery of products with greater end-to-end customer experience, we decided to translate our domain knowledge and expertise in a new approach, which is the development of a cx-aware solution.
What is a cx-aware solutions development approach?
Cx-aware solutions development is grounded in 'customer experience'. So for starters, let's get back to basics and define the concept of 'customer experience'. If you surf the Internet, you can find plenty of articles dancing around this term. Personally, our team defines 'customer experience' as the way customers perceive your brand and how they feel when interacting with it across every stage of the customer journey.
If you're more of a fact person, here are some stats: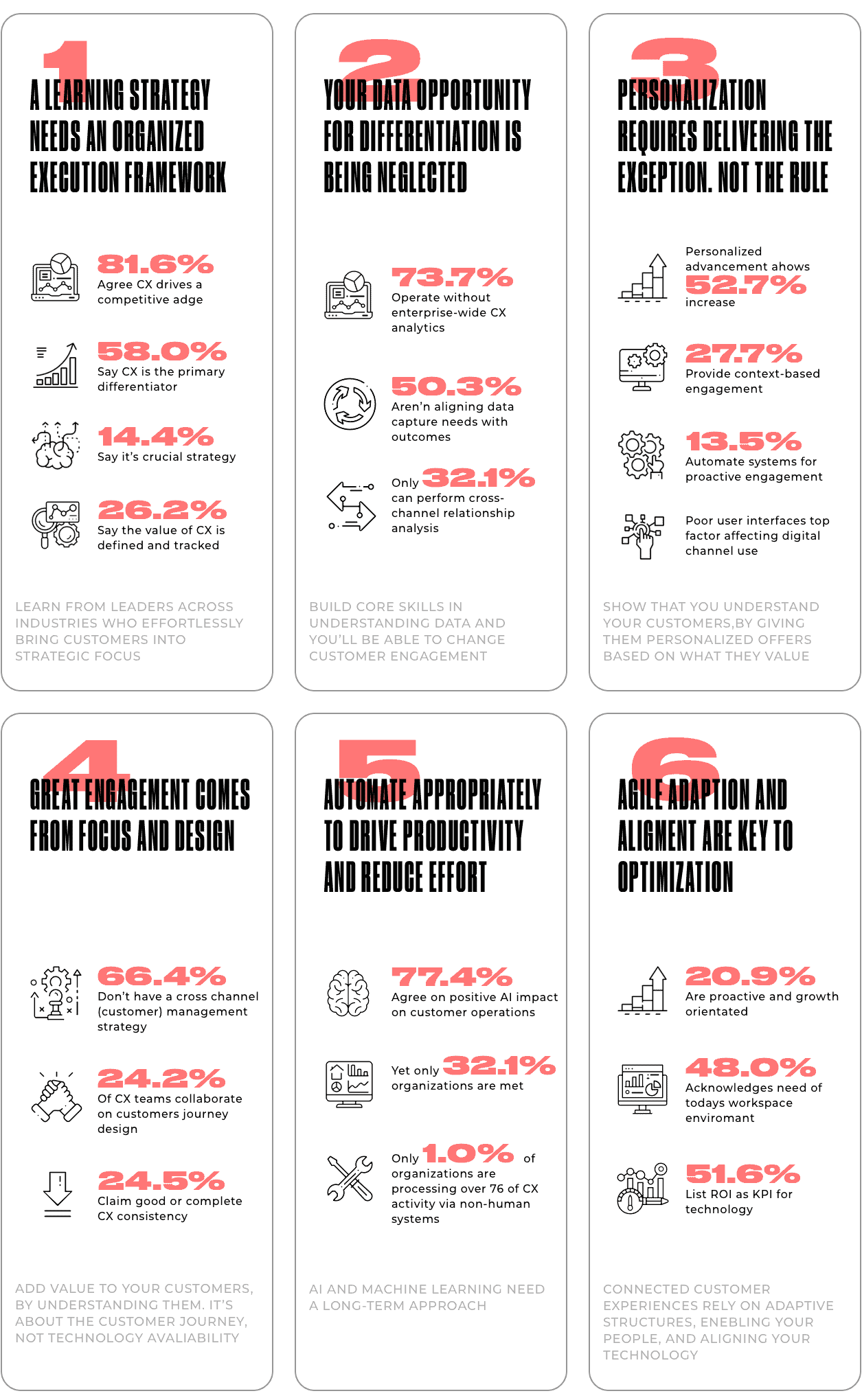 And more numbers:
Studies show that in 2020, customer experience will overtake price and product as the key brand differentiator.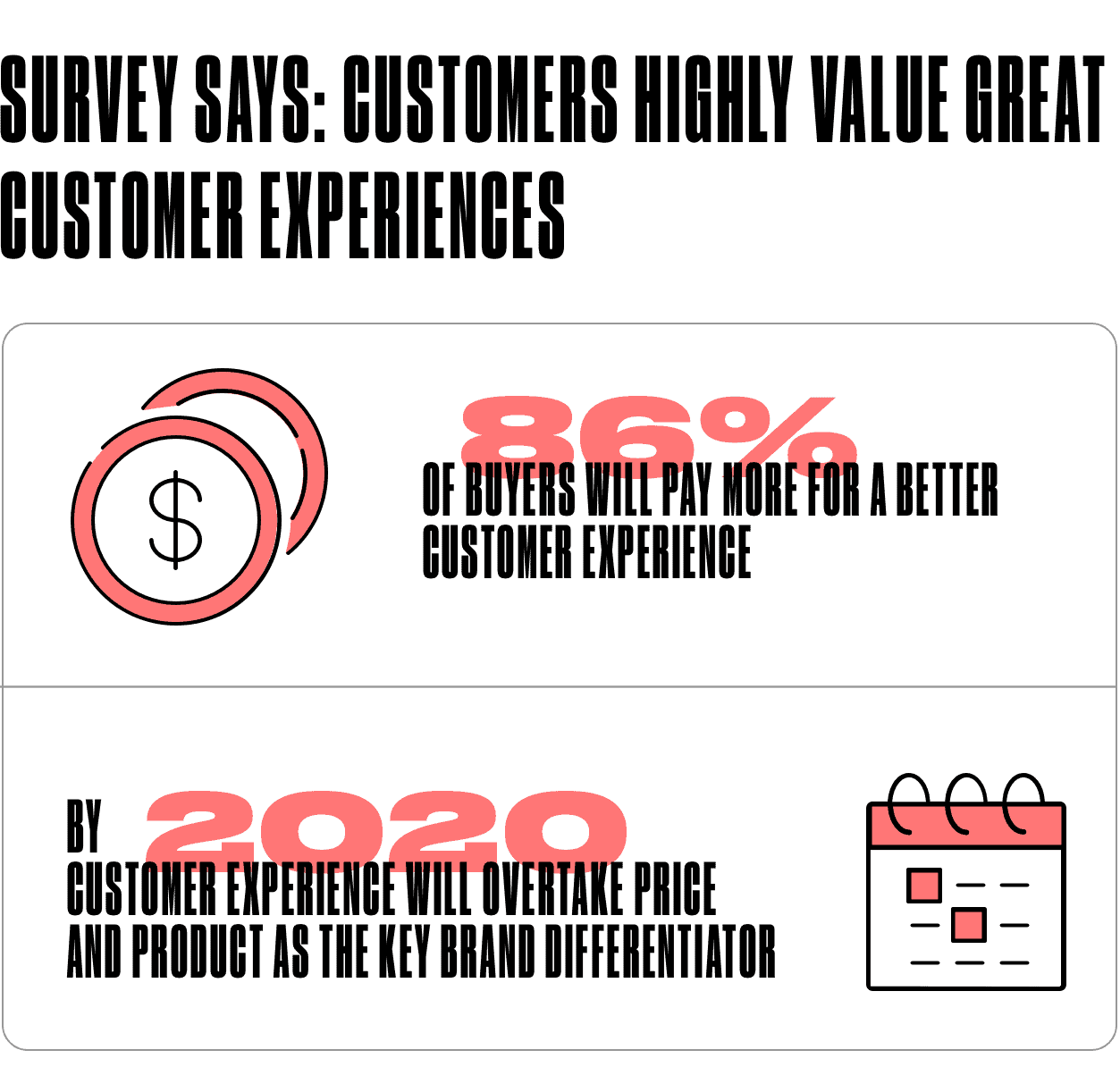 Back in 2018, PwC conducted research, in which they surveyed 15,000 consumers. They found that 1 in 3 customers will leave a brand they love after just one bad experience, while 92% would completely abandon a company after two or three negative interactions.

Ask any business owner if they care about their company's customer experience, and you would hardly find someone who says no. However, when it comes down to taking real steps and creating a customer experience plan, there are plenty of reasons businesses fall behind.

Whether you're a C-level executive at one of the Fortune 500 companies or a startup founder, it's your responsibility to ensure that processes are optimized in a way that makes your organization and your customers' lives better.

With all this in mind, we are convinced that CX is a key to successful software development. We're a hand-picked team of enthusiastic and dedicated professionals. We all possess various backgrounds and years of experience of working in both outsourcing and product development. Having studied all the pros and cons of outsourcing, we concluded that it's possible to perform certain activities more effectively and with a greater value for our client.

Technology is not one size fits all. It's not a silver bullet that would automatically solve every problem. A common misconception is that the more efforts you make the greater are chances of product success. But the truth is that with a carefully crafted approach to delivering value for everyone involved in the process there's a higher probability to deepen customer loyalty and outpace the competition. In this way, the idea of cx-aware solutions development was born.

Cx-awareness is focused on improving a person's experience with a brand and a product at every touchpoint not only from a customer's perspective but also from an organizational one. At the heart of cx-aware solutions development is empathy as a desire to address the problem. In the context of cx-awareness, we empathize both with the product users, as well as internal stakeholders. Our team acts as a so-called empathetic mediator between users' expectations and our customer's organizational goals and needs. We take inputs of all kinds - research, findings, analytics, user feedback, ideation, product vision - and turn them into a clear direction for the client's business. It's also important to maintain brand-awareness of the process from software architecture to quality control, as well as support the high quality of the scalable product.

Our approach is based on experience, not just theory. What our experience has taught us is that successful products don't have an end date but rather they evolve. Since it takes time to figure out how to consistently deliver value from our customers' products, it also takes time to understand how their brands will be aligned with the target audience.

When we start the digital product development process, we don't talk about the product but rather we talk about the product vision. So instead of asking "Can we build a product?" we focus on "Why do we build it?".
It all starts with the right attitude…
Great customer experience isn't just about buttons, layers, fonts, and slogans. What matters most is how you define the experience and train people to deliver it. Everyone in our team has different roles and tasks: from gathering requirements and designing interfaces to software deployment. But, while everyone in the team has different functions, they all have the same job, which is delivering customer experience to everyone, both internally and externally regardless of role. Let us say that it's a part of our team culture and working environment: the attitude of everyone to the product being developed.
The main principles of the cx-aware solutions development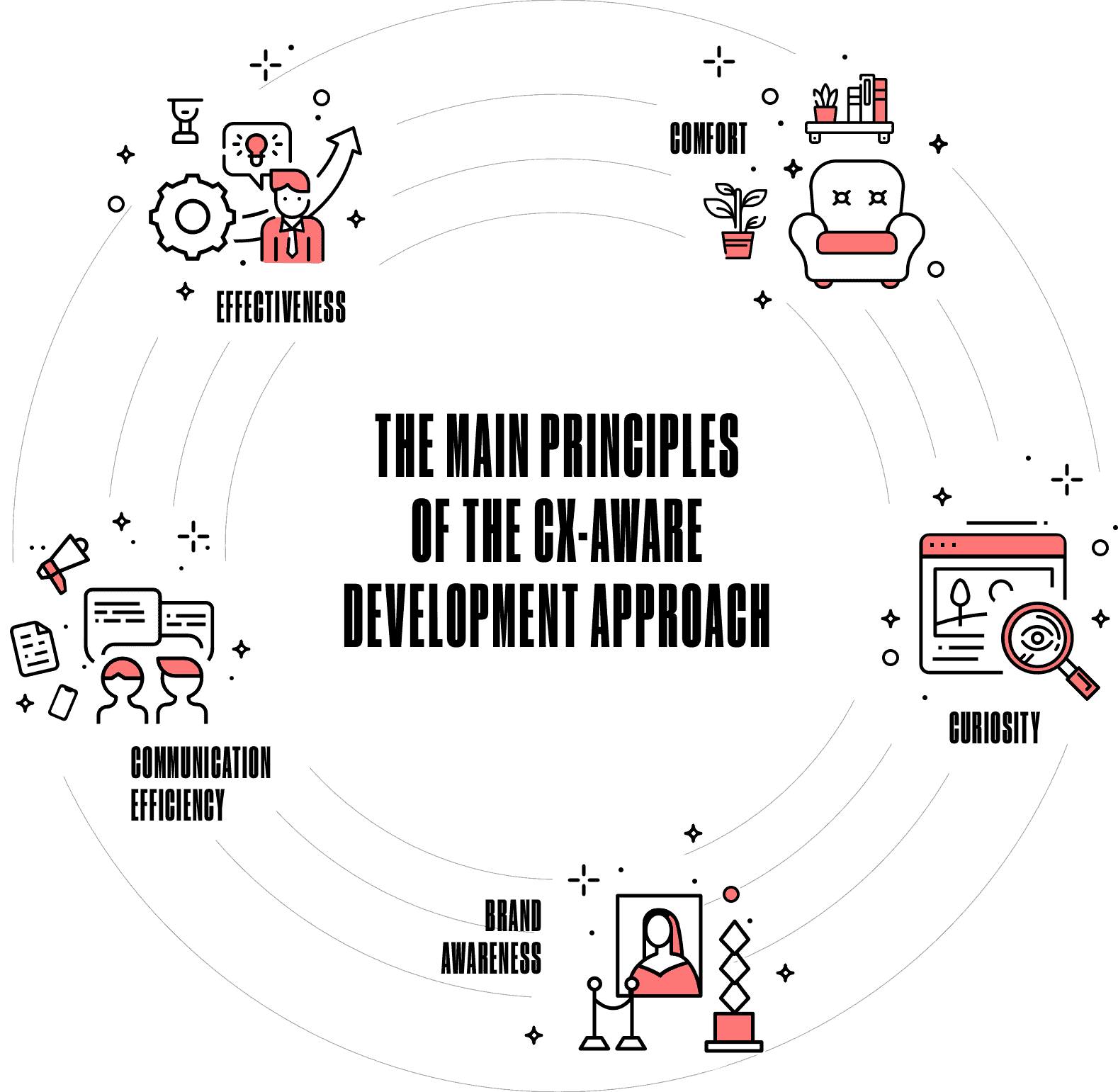 Effectiveness
By integrating user research and customer feedback into core operating processes, we help organizations innovate more effectively. Many organizations mistakenly believe that they have to wait until the end of the project to review their work. But there's one problem: business value is hard to measure before you receive feedback from customers and users. There's no magic formula. All you have to do is to get feedback fast, increment by increment, sprint by sprint, task by task, analyze, and adapt based on that. The use of the Scrum framework allows us to deliver projects in small chunks - bite-sized product increments. As each product increment is completed, we review the new functionality and based on the received feedback, decide what to create next. In this way, we minimize risks and increase the entire effectiveness of the product development process.

Comfort
We help to achieve comfort both for the customers and their users. During the product development process, we want our customers to feel comfortable and be aware of all product changes. From the user's perspective, comfort is about ensuring that the product they use is user-friendly and intuitive. When interacting with the product, users should solely focus on its functionality and core value rather than trying to figure out how it works.

Curiosity
Curiosity is one of the key ingredients in product innovation. While empathy allows us to listen thoughtfully and recognize problems and decisions from another person's perspective, curiosity extends to a deeper interest in customer's product that leads us to ask more questions, explore, and collaborate.
Communication efficiency
We advocate for total communication transparency between all stakeholders as well as providing and receiving constant feedback. Furnishing customers with the information they require via the right channel at the right time is crucial for product success and long-term cooperation.

Brand awareness
By bringing the brand awareness from the start, we ensure that the product gets the traction it needs. We stick to the client's brand values, which allows us to shape the development process, including quality control.
CX-aware solutions development vs. Software development outsourcing
While in outsourcing, the product team needs a list of certain requirements to start a development process, in cx-aware solutions development there's no need for that. It's enough for us to get a high-level idea from our customers on the basis of which we form clear requirements that correspond to the customer's product vision.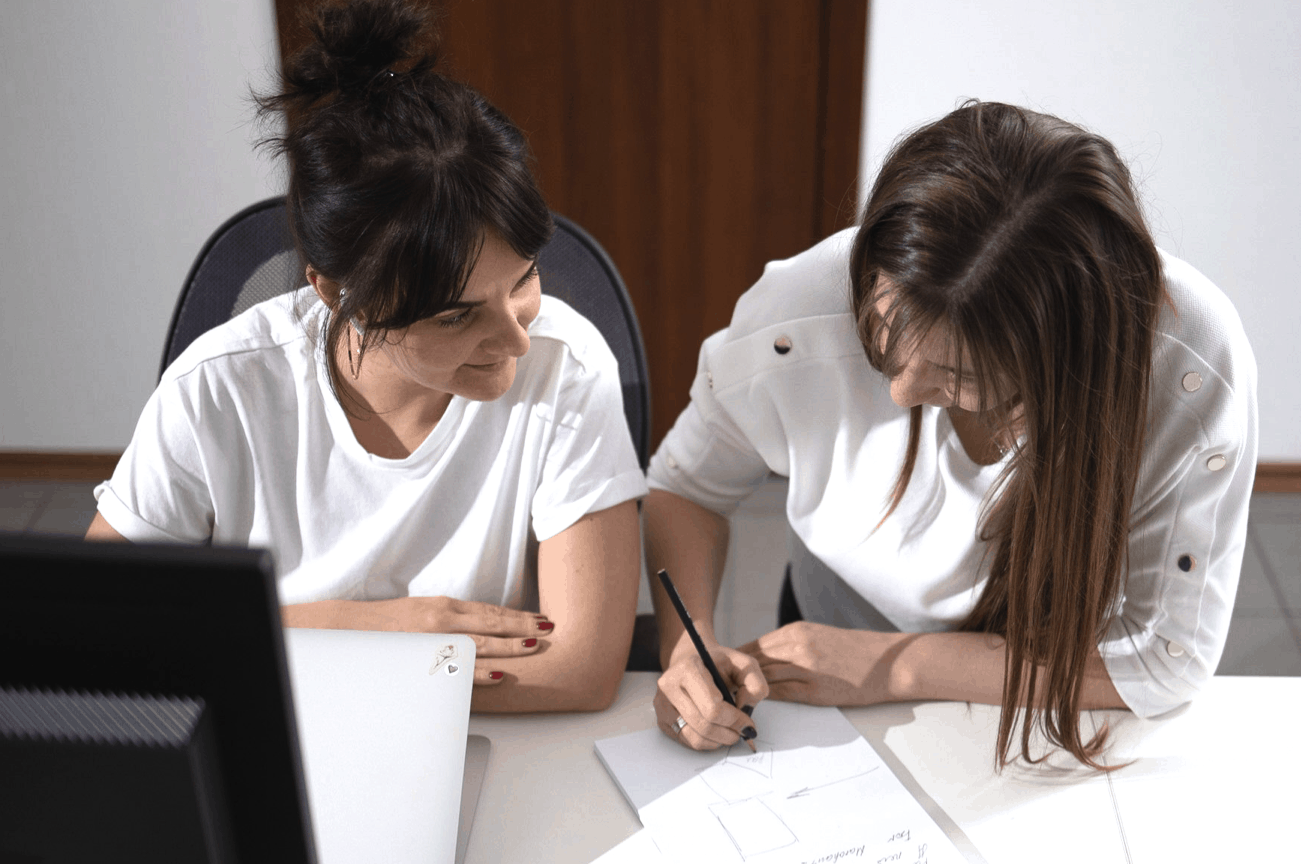 Here at CX Dojo, we've a proven algorithm to gather requirements. We approach requirements based on our expertise by describing each of them.

An outline of the product requirements process looks like this:

1. Define, analyze, and document the fundamental business needs for the product to be developed.

2. Develop a product requirements document written in natural language to describe the services and value that the product must deliver.

3. Prepare process flow charts adequate to complete the design and development of the desired product. A series of user stories are used to guide this process.

4. Identify risk management strategies.

5. Document key milestones of the product implementation plan.

6. Establish a knowledge transfer in case of any changes in the team.
Customer Experience Research
When was the last time you tried to hear the voice of customers on your product? In any case, constant communication with users and receiving their feedback is one of the crucial components in the development of a useful and valuable product.

It's pretty obvious once you think about it: you can't build a product people will fall in love with if you don't know the needs and preferences of these people. So before making any product decisions, our team conducts customer experience research to obtain valuable insights.

In fact, customer experience research is an essential part of any project. Without proper research, product development would be based on assumptions and guesses. Consider customer experience research as a solid foundation for your house.

Customer experience research (CXR) is the process of collecting data regarding the experience customers have with a brand and a product. The goal of the CXR is to help companies increase competitive advantage by understanding customers' needs, wants, as well as pain points and motivations. The use of these insights is a great way to test organizations' customer journeys and create experiences that provide brand loyalty.

For CXR to be successful, you need two components: feedback from end-users across the entire customer journey and data analytics (user data, decision analysis, etc.). This information can help us to close the gap between end-users ideal expectations and their current perception of the product experience that is currently being delivered.

Thus, we apply two types of CXR: direct and indirect.

Direct type is when we research our end-user.

Within the indirect type of CXR, we track and analyze users' interactions with a product more detailed. The following methods help us:

Survey analytics, which includes Net Promoter Score (NPS), Customer Satisfaction (CSAT), and Customer Effort Score (CES). 
Product analytics with a focus on feature use, recency and frequency, and value of use.
CX-expert reviews. 
User behavior analytics.
CXR gives vital insights to improve customer centricity and when it's done right, the results lead to continuous improvements.

Ending Notes
This is an opening article from the series related to the role of CX in our team and the digital product development process. To stay tuned on the upcoming posts, you're welcome to read our blog.